Here's another lesson from the PROCORP Special Advisor Training Program developed to help financial advisor become highly effective in the lucrative privately-held business sector.
Case Story Snapshot
Client: Owner of hi-tech infrastructure and solutions firm, divorced father of two, one with special needs.
Core Issues:
How to retire successfully from active business in 8 years while putting in place a structured plan for his children; in particular his special needs child.
How to extract full value while directly managing the company.
How to sell the company to an interested third party for its full value after the 8-year period.
PROCORP Strategies: Restructure corporate holdings, implement family trust, freeze operating company's value, capital transfer, business succession (buy out), current and future tax containment, estate protection
Circa: 2011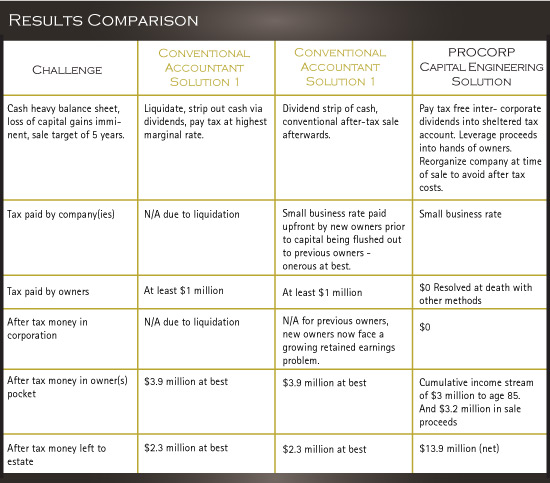 For a more detailed Case Story, login or register to download.
Why consider joining the PROCORP Special Advisor Training Program?
Consider these facts about the private business owner marketplace:
There are approximately 450,000 private businesses in Canada with a notional or book value of over $1.3 trillion.
The vast majority is owned by baby boomers who are headed for the exits over the next five to 10 years.
Only one of every four will sell.
Of those that do sell, only 25% will get anywhere near what they think their business is worth.
And, as much as 65% of the money those lucky few receive will be lost to taxation.
While this is not a pretty picture… it is an unprecedented opportunity for any advisor willing to acquire the knowledge and work with a highly specialized team.
Register or login here to access all of the valuable content that PROCORP has to offer.